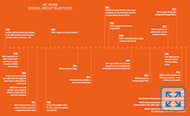 From planting our roots in Northern California in 1975, we expanded across the state and into Alaska in 1991. In 1994 we began writing in Rhode Island, and continued into Pennsylvania in 1998 and Delaware in 2007. Our growth accelerated in 2011 with the addition of 22 new states with the acquisition of Medicus Insurance Company. Our national growth has brought together more than 32,000 insureds with diverse locations and specialties. At year-end 2017, the NORCAL Group of companies was admitted in a total of 49 states and the District of Columbia.
1975
Northern California physicians band together at the county medical society level to form NORCAL Mutual Insurance Company.

1984
NORCAL Mutual receives its first A.M. Best "A" rating, a distinction we've maintained every year since.

1998

NORCAL expands into Pennsylvania through PMSLIC Insurance Company of Mechanicsburg, PA, a medical professional liability insurance carrier formed by the Pennsylvania Medical Society that began issuing policies in 1978.


2003

NORCAL Mutual's Risk Management department achieves its first six-year "Accreditation with Commendation" from the Accreditation Council for Continuing Medical Education (ACCME). The six-year accreditation was renewed in 2009 and again in 2015.


2011

NORCAL Mutual acquires Medicus Insurance Company of Austin, TX, a medical professional liability insurance carrier approved to write business in 34 states, pending rate and forms filings.


2013

NORCAL Mutual begins to integrate all three companies into one national organization under the NORCAL Mutual banner.


2014

NORCAL Mutual launches its new Health Care Professional (HCP) policy with enhanced and extended coverages and begins a nationwide roll-out to transition NORCAL Mutual, Medicus, and PMSLIC policyholders onto the new policy.


2015
NORCAL Mutual finalized the acquisition of FD Insurance, Florida's fourth largest MPLI carrier, and established Jacksonville as NORCAL's Southeast hub.

2017
NORCAL Mutual finalized the acquisition of PPM Services, the only anesthesia-specific medical professional liability insurance carrier in the nation, insuring anesthesia practices in over 40 states.