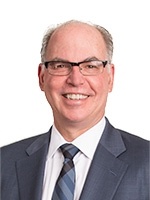 Steven Packer, MD, president and CEO of Community Hospital Foundation and director of NORCAL Mutual Insurance Company and Medicus Insurance Company, has been named to the Becker's Hospital Review "100 Physician Leaders of Hospitals and Health Systems" for 2015. Physician leaders are chosen by the editorial board of the Becker's Hospital Review based on their healthcare experience, accolades and commitment to quality care.
Dr. Packer has led the Community Hospital Foundation since January 1999. Under his leadership Community Hospital has achieved many milestones, including the largest expansion in the organization's history. He previously served as chief of staff and was medical director of the Community Hospital's intensive care unit for 11 years. He is also the past chair of the California Hospital Association.
"We congratulate Steve on being recognized among the top national physician leaders in hospitals and healthcare systems. His leadership and commitment to the quality of care is exceptional and this honor is well deserved," President and CEO of NORCAL Mutual Scott Diener said.