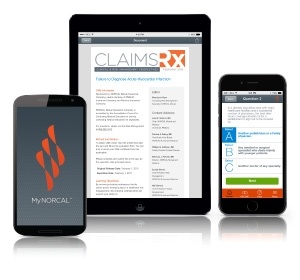 NORCAL Mutual Insurance Company, one of the top ten largest medical professional liability insurance companies in the nation, released a new mobile application – MyNORCAL™ – that will enable policyholders to conveniently access exclusive risk management claims-based learning and advice, take quizzes to earn continuing medical education (CME) credit and obtain certificates of completion on their mobile devices.
"We are excited to extend our patient safety offerings to include the MyNORCAL™ app, giving our physicians fast, simple and convenient access to timely information and learning opportunities that help manage liability risks in their practice. They can complete CME activities anywhere and anytime that fits their busy schedules," Dustin Shaver, vice president of risk management at NORCAL Mutual said. "Our team designed this mobile app to complement our suite of risk solutions that include online and offline self-paced study, webinars and live in-person events."
The MyNORCAL™ app is available through Google Play and the App Store™ for health care professionals who have a policy with a NORCAL Group company, which includes NORCAL Mutual, Medicus Insurance Company and PMSLIC Insurance Company. Policyholders have access to the last 24 issues of NORCAL Mutual's award-winning Claims Rx publication that offers multi-specialty content and at least one CME credit per issue.