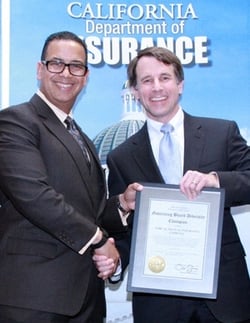 NORCAL Mutual Insurance Company has been selected as the 2015 Governing Board Diversity Champion Award recipient by the California Department of Insurance Diversity Task Force. This award, which recognized NORCAL Mutual's successful and innovative approaches to diversifying its governing board, was presented during the 4th Annual Insurance Diversity Summit by Insurance Commissioner Dave Jones.
"We are excited to honor NORCAL Mutual for serving as a model of a diverse governing board and for its significant efforts to continue its focus on diversity across its board members," said Jones.
The annual Diversity Summit is held to engage insurers and stakeholders in a discussion about the state of diversity within the insurance industry. NORCAL Mutual's board is made of 55% women and 27% ethnically diverse members making us one of the most diverse boards of directors in the insurance industry.
Board Member Scott Syphax, who accepted the award on behalf of NORCAL Mutual said, "It's an honor to be recognized for our efforts to include diverse thoughts, perspectives and experience. We believe diversity is the key to building a stronger company."
NORCAL Mutual also improved its Supplier Diversity Program earlier this year as part of its procurement process. In this program, NORCAL Mutual is committed to developing business relationships with enterprises owned by individuals of diverse backgrounds.