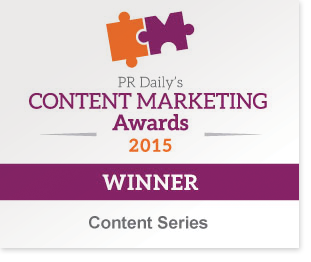 Ragan's PR Daily awarded NORCAL Mutual with the 2015 Content Marketing Award for Best Content Series. NORCAL's marketing and risk management teams were recognized for their innovative work in the development of the Medical Liability Risk Management Series, a suite of educational risk management material that taps into existing content and reimagines it in a different medium for a broader audience.
"We're thrilled to be honored for this content work, especially among such notable and prestigious companies," said Joy Corso, vice president of marketing and communications at NORCAL. "Our risk management expertise is among the best in the industry and was an untapped resource from a marketing standpoint. We were able to transform the technical content into compelling communications to drive general market education, thought leadership and brand recognition."
PR Daily, a division of Ragan Communications, is an industry leader in news, advice and opinions on the public relations, marketing, social media and media worlds. This is the second year they have held the Content Marketing Awards to recognize marketing and communications professionals who create superb content to promote a brand or organization. To read more about NORCAL's winning work and the other 2015 winners, visit the special edition issue on the prdaily.com.