Research indicates that a majority of physicians may be suffering from burnout and that burnout is nearly twice as prevalent among physicians as among other workers in the United States. Who or what is responsible for physician burnout is a complicated question that has prompted a great deal of research over many years. Burnout in physicians has been defined as emotional exhaustion, impersonal reaction to patients, feelings of incompetence, low achievement, and lack of motivation. There are multiple tools to measure physician burnout and wellness. Assessing the problem is a key organizational and personal strategy for ensuring quality patient care and physician well-being.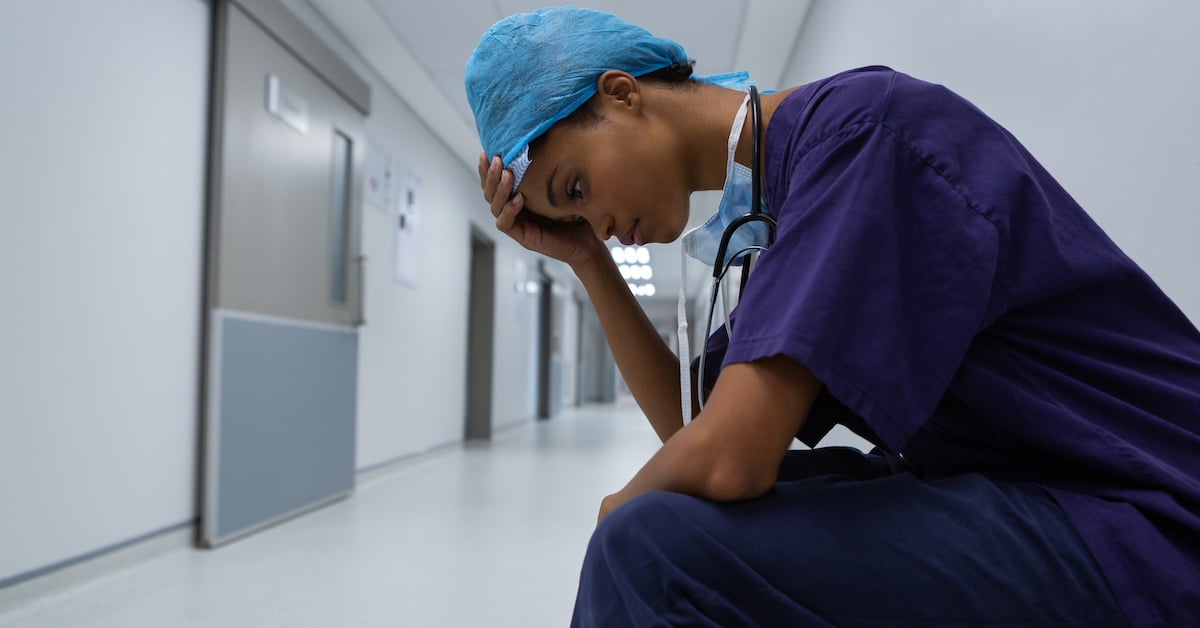 Despite burnout being a work-related condition, burnout solutions, until fairly recently, have focused on physician self-help. But self-help does not solve the root causes of burnout, which can be attributed to systems and administrative requirements. Consequently, there is a business case to be made for burnout reduction and physician wellness.
Burnout can affect every aspect of healthcare delivery. For example, burned-out physicians are more likely to be involved in poor outcomes and have lower patient satisfaction scores, which can have a significant effect on government reimbursement, patient retention, and reputation. Burnout can negatively affect workplace culture by diminishing empathy among coworkers, causing disengagement from teamwork and reducing commitment to corporate values. In addition to the costs associated with burnout-related loss of goodwill, decreased reimbursement and patient injury, burnout is associated with high physician turnover costs—it can cost from $500,000 to more than $1 million to replace a physician and onboard a new one. In other words, it costs two to three times a physician's annual salary to replace that physician. (Turnover costs for nurses experiencing burnout are comparable.) Like many issues associated with healthcare, prevention is cheaper and safer than managing the downstream consequences of full-blown burnout.
The ProAssurance Risk Management Department has identified three broad categories of work-life stressors that can impact the wellness of healthcare professionals. Resources have been created to help physicians, physician leaders, and administrators understand and address these sources of stress with the goal of reducing professional burnout. There's a real difference, though. Rather than rehashing the causes and effects of these stressors, our intent is to offer information, practical resources, and innovative strategies to help healthcare professionals create meaningful change and improvement.
Business/Administrative Stressors
Electronic health records (EHR)—including electronic medical records (EMR), electronic prescribing, electronic patient portals, and computerized physician order entry (CPOE)—are a main cause of physician burnout. There are strategies for reducing EHR-associated physician burnout, including: improving EHR usability, using scribes, delegating data collection duties, and improving EHR expertise.
Healthcare organizations are increasingly recognizing the importance of engaging physicians and other clinicians in their leadership teams, and this engagement will become even more important as the healthcare environment becomes more challenging. However, leadership responsibilities can contribute to stress and physician burnout when physicians and other clinicians don't have the leadership skills needed to work collaboratively with their peers or when organizations lack a collaborative culture.
Production pressure is a significant cause of physician burnout. Relieving production pressure on physicians requires interventions on both organizational and individual levels. More realistic workload planning, adequate staffing, and optimum delegation—paired with more efficient time and patient management—can reduce production pressure.
Reimbursement
Fragmented and variable reimbursement models, increasing price competition, contracting insurance networks, and increasing documentation requirements can all exacerbate physician burnout. Several groups are organizing to demand reductions in paperwork associated with reimbursement, and the Centers for Medicare and Medicaid Services (CMS) has indicated it is working on reducing physician regulatory burdens. Until that time, there are strategies that physicians can use to mitigate the stress associated with reimbursement and managing EHR burdens.
Loss of Autonomy
Physicians report that loss of independence and autonomy contribute to burnout. In fact, a recent NYU School of Medicine study of physician burnout found that physicians working in small, independent primary care practices had dramatically lower levels of burnout than the national average. This study suggests that physicians and administrators can work together to reduce the stress associated with loss of autonomy by returning certain aspects of patient control back to physicians—such as patient scheduling, appointment length, case mix, and work hour scheduling.
Meeting CME, Licensure and Certification Requirements
Physicians are under increasing pressure to complete continuing medical education (CME) and maintain certification, and it's often at significant financial cost and commitment of their limited time. The stress associated with meeting education, licensure, and certification requirements can contribute to physician burnout. Physicians can decrease their burden by optimizing the process for obtaining CME credits and contributing to certification reform efforts.
Patient-Care Stressors
Unhealthy Aspects of the Culture of Medicine
The culture of medicine may set physicians up for burnout and prevent those who are struggling from seeking help. An important aspect of preventing burnout and achieving wellness is to question the value of pursuing unrealistic ideals at the expense of well-being. Fear of stigma, lack of confidentiality, and licensing repercussions are common reasons physicians fail to obtain necessary mental health treatment. Administrators and physician leaders can play a major role in eliminating the stigma and fear of reprisal associated with seeking help.
Physicians who have high numbers of difficult patient encounters are more likely to suffer from burnout. A number of variables can be at work during a challenging patient encounter. But what might seem like an insurmountable problem may be fairly manageable with some minor adjustments. Resolving difficulties in the early stages of a challenging patient relationship can be the best solution for all parties involved.
Lack of Support from Physician Leadership
Ineffective physician leadership can contribute to stress and burnout. Physician leaders can reduce the risk of physician burnout by modeling and supporting a collaborative culture and improving leadership skills through training methodologies.
Limitation on Care Decisions Due to Reimbursement Issues
Physicians regularly encounter patients who cannot afford optimal or even necessary medical care. There are various unappealing ways to deal with the problem, including lowering the standard of care, discharging or turning away patients, and bending billing and reimbursement rules. These approaches raise obvious patient safety, liability risk, and ethical problems. There is no perfect solution to this complex issue, but there are methods for satisfactorily balancing the risks and benefits associated with treating indigent and underinsured patients.
Personal Stressors
Physician distress associated with being involved in an unanticipated patient outcome (also known as "second victim syndrome") can last for months or even years. Second victim syndrome can exacerbate or trigger physician burnout. Physicians and administrators can use various strategies to avoid and manage second victim syndrome.
Litigation stress on physicians can exacerbate or trigger physician burnout. Physicians who are sued may already be suffering from second victim syndrome, which can make matters worse. Physicians need to recognize their vulnerability to the stress that accompanies litigation and actively seek the support they need. Administrators should also be sensitive to exacerbating burnout, second victim syndrome, and litigation stress symptoms when limiting privileges prompted by an unanticipated outcome.
Achieving work-life balance can be particularly challenging for physicians, who often devote far more than 40 hours per week to work-related activities. Physicians, with the support of administrators, can maintain balance between work and non-work activities by using deliberate planning and setting realistic expectations.
Unrealistic Physician Expectations
Unrealistic personal expectations can set the stage for and perpetuate physician burnout. They also contribute to work-life imbalance. Physicians can use multiple approaches to determine what matters most and start prioritizing in a way that both promotes patient safety and maintains physician wellness.