Text messaging has changed the way we communicate with each other. Like most people, healthcare team members use their mobile devices at work,1,2,3 and texting about patients is common.4 Texting with patients and other members of the healthcare team has risks and benefits.
"If a patient passed a handwritten note containing health information to her physician, there is little doubt that this note would be considered relevant if a medical malpractice lawsuit was filed. Likewise, if the physician wrote a note to her patient as to what to do, it would also be relevant and discoverable. Is text messaging anything different from passing handwritten notes?"5 – Matthew P. Keris, Esq.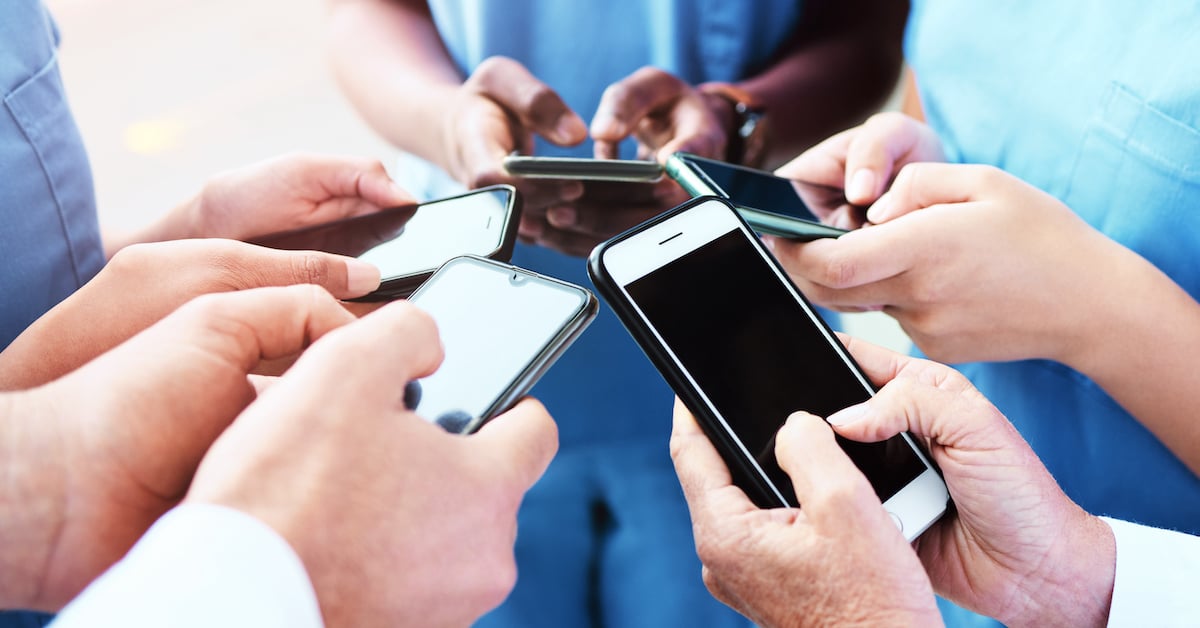 Among the benefits: texting is convenient and efficient, and it can enhance patient engagement and team communication. But the benefits must be weighed against patient safety and liability risks, which include:
More Information About Texting in Healthcare
Text messaging auto-correction, typos, and text-typical abbreviations can result in inaccuracies.
Texts may be composed in a manner that is considered unprofessional or too casual for medical record documentation.
Individuals may assume that deleting incriminating or unprofessional text messages from their phones permanently removes them from existence, whereas the data continues to exist in different locations that can be accessed by plaintiffs in malpractice litigation through the legal discovery process.
Texts can be too brief and imprecise when a situation calls for detail typically available during direct communication.
Texts can be a distraction from patient care, resulting in increased patient injury risk and diminished patient satisfaction.
Texts often aren't retained in patient records, which can disrupt continuity of care, violate record retention laws, and make it difficult for defendants in malpractice lawsuits to remember what transpired.
Unsecure messaging platforms can result in federal and state privacy and security law violations and non-compliance with Centers for Medicare & Medicaid Services (CMS) and accrediting organization (e.g., The Joint Commission) requirements for secure text messaging.
Healthcare entities can provide members of the healthcare team with a secure messaging system to facilitate a straightforward way to include text messages in medical records. Administrators can also create and enforce text messaging policies and protocols designed to improve patient safety and reduce professional liability risk. But ultimately, relative to text messaging, patient safety and liability risk management are up to individuals.
Using a personal device that does not automatically load text messages into the patient record can result in gaps in the medical record that can be difficult to fill without access to the text messages in the phone, which may be deleted prior to litigation. Text messages about patient care should be created with the same skill and professionalism as medical record entries―the text messages are part of the medical record, regardless of where they are being stored. That being the case, text messages between members of the healthcare team and with patients can be used as evidence in malpractice litigation.
When engaging in patient care and treatment, it is important to consistently weigh the risks and benefits of using text messaging as a mode of communication. When the benefits outweigh the risks, carefully review messages for accuracy and professionalism before hitting the send button. As the linked case studies show, careless messages can substantially complicate the defense of malpractice claims.
The linked case studies are based on closed claims. They are used to illustrate how text messages may contribute to patient injury and turn into evidence in malpractice litigation. Corresponding strategies are introduced to improve patient safety and reduce liability risks.
This content originally appeared in
Claims Rx
, our claims-based learning publication available in the searchable
Claims Rx Directory
. For select releases, eligible insureds will also find instructions for obtaining CME credit.
References
1. Physicians Practice Staff. "2018 Mobile Health Survey Results." Physicians Practice. 2/19/2018.
2. Andrea de Jong, et al. "Nurses' Use of Personal Smartphone Technology in the Workplace: Scoping Review." JMIR Mhealth Uhealth. 2020; 8(11):e18774. DOI: 10.2196/18774
3. Courtney Caminiti, et al. "The Impact and Perception of Cell Phone Usage in a Teaching Hospital Setting." Journal of Patient Experience. 2020; 7(6): 1627-1633. DOI: 10.1177/2374373519892416
4. Alice G. Gosfield. "Compliance Pitfalls in Electronic Documentation." In Health Law Handbook, Fourteenth Edition. Eagan, MN: Thomson Reuters; 2020.
5. Matthew P. Keris. "A View from the Trenches: Discovery Issues with Electronic Medical Records." Risk Rx. 2011; 8(1).