Telemedicine continues to grow at an impressive rate as increasing numbers of providers adopt it in their practices, and the technology continues to improve for connecting with and delivering virtual care to patients. But along with the advantages that telemedicine offers both providers and patients, there are also liability risks to consider.1
Telehealth Policy and Usage in the United States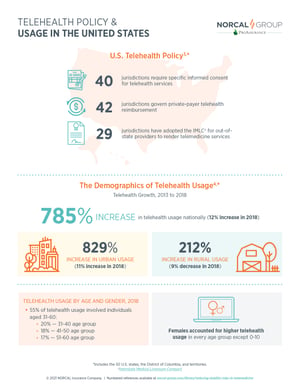 The FAIR Health report, Healthcare Indicators and Medical Price Index 2020 (PDF), shows dramatic growth in telemedicine use from 2013 to 2018 as well as insight into the demographics of patients who choose to utilize it.
Despite this historic growth—and the further growth experienced during the COVID-19 pandemic in 2020—varying state regulations regarding licensure, informed consent, and reimbursement present challenges to providers and may be impeding further growth; it is yet unclear if the lowered regulatory barriers enacted temporarily in response to the COVID-19 pandemic will become permanent.1,2 The Center for Connected Health Policy report, State Telehealth Laws & Reimbursement Policies, offers a useful reference for understanding state-level policies.† When engaging in telemedicine services across jurisdictional lines, however, it is still wise to consult with your business attorney and insurance carrier to ensure compliance and liability coverage.
U.S. Telehealth Policy3,*
40 jurisdictions require specific informed consent for telehealth services.
42 jurisdictions govern private-payer telehealth reimbursement.
29 jurisdictions have adopted the Interstate Medical Licensure Compact for out-of-state providers to render telemedicine services
Telehealth Growth, 2013 to 20184,*
785% increase in telehealth usage nationally (12% increase in 2018)

829% increase in urban usage (11% increase in 2018)
212% increase in rural usage (9% decrease in 2018)
Telehealth Usage by Age and Gender, 20184,*
55% of telehealth usage involved individuals aged 31-60:

20% — 31-40 age group
18% — 41-50 age group
17% — 51-60 age group

Females accounted for higher telehealth usage in every age group except 0-10.
Telemedicine Risks and Benefits
Telemedicine is credited with improving patient access and enabling cost efficiencies, among other benefits. This and evolving state and federal telemedicine legislation3 may explain the rapid increase in its utilization. Despite the advantages, telemedicine has liability risks, such as privacy, security, patient confidentiality, credentialing, and misdiagnosis due to a lack of continuity of care.
Additionally, the soft skills that may come naturally in an in-person patient encounter may need to be adjusted for remote encounters. Telemedicine providers should evaluate their "webside manner" and processes.1 For example, equipment needs to be positioned to simulate direct eye contact, active listening cues may need to be exaggerated, posture and facial expressions may need adjustment, and sessions must be started and ended appropriately. Seemingly minor electronic communication strategies can significantly affect the success of a telemedicine encounter. Providers should also be sensitive to technology challenges that may impact some patients, including a lack of broadband internet access or an unfamiliarity with required communication technology.1
Physicians who adopt telemedicine also have administrative considerations that may pose a challenge and liability risk. For instance, professional licensure portability and individual state mandated practice standards present major challenges. There are significant differences among state telemedicine laws, and the laws are constantly changing. Federal and state privacy laws and regulations also apply to the telemedicine encounter.5 Physicians should be aware of telemedicine laws and other relevant statutes in their own state as well as in the state of every patient in their telemedicine practice. Understanding the laws is paramount to understanding the medical liability risks that may be involved in the various stages of providing telemedicine.
Medical Liability Risk Management Recommendations
Medical professionals providing virtual visits must work harder to reduce practice liability exposures. These risk management recommendations can help enhance patient safety and reduce risk.
Understand All Applicable Laws and Regulations
Understand that telemedicine practice laws vary from state to state.

Check your professional licensure portability to ensure that you are licensed to practice in the jurisdiction where the patient resides.
Be aware of online prescribing regulations that vary across jurisdictions.

Comply with all applicable privacy and security standards for the secure transmission of protected health information between patient, provider, and payers.
Maintain a Positive Patient Experience
Standardize telemedicine patient visits to help minimize the potential for error and to support good communication practices.
Ensure that the patient has the technology and connectivity necessary to be adequately examined and the capability to utilize the technology needed.
Take care to ensure that the primary care physician and patient relationship is not fractured with ongoing use of telemedicine consultation.
Ensure Appropriate Standard of Care
Ensure that the patient's condition can be appropriately examined via available telemedicine equipment. Determination of telemedicine appropriateness will need to be made, e.g., whether the patient can be adequately assessed without information normally obtained during an office visit.
Take steps to ensure that you are examining and prescribing for the correct patient. For example:

Ask the patient to hold up a driver's license to the camera and compare the information on the identification card to the information provided by the patient.
Run an insurance eligibility check, confirming the patient's name, address, date of birth, and Social Security number.
If the patient has been seen before, ask a series of questions on prior medical history to determine if the patient responses match what is in the medical records.
Fully Document the Virtual Patient Encounter
Thoroughly document the encounter as you would any face-to-face encounter, including all communications with or about the patient, review or ordering of tests/results and follow-up recommendations, coordination of care, etc.
Document the informed consent process and confirmation, including that the patient agrees to and understands the limits of confidentiality when communicating via an electronic medium and that it may be determined that telemedicine is not appropriate for the diagnosis and treatment of their condition.
Document any technical issues that interfered with, delayed, or complicated the telemedicine encounter. For example:

Poor internet connectivity or signal quality
Camera or device malfunction
Tele-presenter unavailability
Patient inability to manage technical aspects of the exam
Peripheral device unavailability
Telemedicine continues to grow in scope and popularity and the rising rate of adoption by both physicians and patients is an indication of its value. As with all advancement in the field of medicine, the advantages of adopting a new way of practice should be considered carefully and the risks assessed. It is important to consult with your medical professional liability insurance provider on your individual policy to ensure that you are adequately covered for the scope of practice and consult with your business attorney as needed.
References
1. Mohit Joshi. "Telehealth Has Huge Potential, But Challenges Remain." Forbes, 2/12/2020.
2. Joe Harpaz. "5 Reasons Why Telehealth Is Here To Stay (COVID-19 And Beyond)." Forbes, 5/4/2020.
3. Center for Connected Health Policy. State Telehealth Laws & Reimbursement Policies (PDF). Spring 2019.
4. FAIR Health. FH Healthcare Indicators and FH Medical Price Index 2020 (PDF). March 2020.
5. Office for Civil Rights, U.S. Department of Health & Human Services. "Where Can Health Care Providers Conduct Telehealth?" Content last reviewed on 3/27/2020.
Additional Linked Resource
Interstate Medical Licensure Compact
Notes
* "Jurisdiction" incorporates the 50 U.S. states, the District of Columbia, and territories.